Dear users:
In order to promote the stable development of ZBT community game ecology, ZBT will cooperate with more game development teams this year. I hope that while bringing more game experience to community users, users can get other game items in ZBT and experience the fun of trading.
Therefore, we have decided to open the user recommendation channel, and all users can recommend the game and the game development team that you approve to us. Users who recommend the game and help the game team successfully sell items on ZBT will be rewarded with 150-300 T Coins.
P.s. : For better cooperation, please ensure you are familiar with the game or the game development team, so that can help us cooperate easily.
And please follow the format to email us.
👇Example👇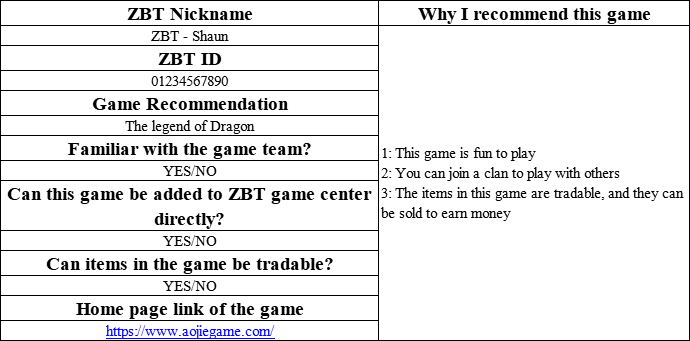 In addition, we will launch 'Game Center' this year. we will access some interesting games in this section, and also welcome users to recommend the game that you approve. Successful referrals will also be rewarded with 140-300 T Coins.
If you have good ideas and suggestions, please do not hesitate to recommend, rich rewards are waiting for you!

Please email us at 👉 bd@zbt.com
ZBT Operation Team
Disclaimer: This article does not represent ZBT's position and does not constitute investment advice. Please be cautious.
Copyright notice: Author reserves rights, does not represent ZBT's position.